Ever since reading the Twilight Series I have been on a paranormal romance kick. I went searching for books that fell into that category but were not to "weird." I found a plethora. I recently finished reading the Fever series by Karen Marie Moning - well finished in the sense that I've finished what's out there and I'm waiting for more.
The series to date has three books to it: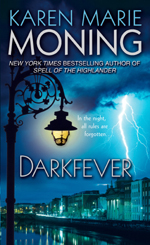 The series is about MacKayla Lane - a young woman from rural Georgia with a twin sister. Her twin sister moves to Ireland and is murdered at the beginning of the first book. Mac has her sister's dying message on her cell phone and decides to go to Ireland to find the murderer (since the cops are no help.)
Once there Mac learns about another part of her world. The Fae part. Mac is a Sidhe-Seer, the magic from the Fae does not work on her, boy does that piss them off :). There are Dark Fae and Light Fae, but in reality none of them are what you would call "Good."
The Books follow Mac as she meets new people who are also involved in this world and learns more about her sister, who never told her about any of this. There is a book of the dead that everyone wants, sex crazed fae, and a mysterious employer/housemate. Mac learns to be afraid of the dark/shadows and to pretend not to see the many things she does.
When the third book leaves us, the walls between Fae and the rest of the word have come down leaving everything in mass chaos and it is up to Mac to save the world.
There are two more books to the series: Dreamfever and Shadowfever... I have yet to find a date of release for them.
Oh yes - these are marketed as Romance, although there is no typical ending with the two characters together in any of the books.